Roll over image to zoom in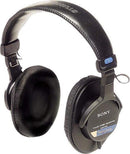 Description
Sony MDR7506 Professional Stereo Headphones are ideal for sound monitoring in recording studios, radio, film production, video, electronic news gathering - and virtually any application where high quality sound is required. The closed-ear design MDR-7506 is outrageously popular in pro and home recording studios. It features a rugged design, convenient folding construction, 40mm driver units, gold connectors and a professional-quality OFC (oxygen free copper) cord. Sony 7500 Series headphones offer a practical range of choices for everyone from the casual user to the studio pro. These include the MDR-7506 which is lauded by many professional studios and broadcasters.
Product Features:Folding Construction:
 Compactness in storage
Stereo Unimatch Plug:
 1/4 in & 1/8 in applications
Supplied Soft Case:
 Protective storage wherever you are
40mm Driver Unit:
 For clear, high quality sound reproduction
Rugged Design:
 Proven to be reliable in the toughest of situations
Closed-Ear Design:
 Comfort and reduction of external noise interference
Gold Connectors and OFC Cord:
 Reliable and stable signal connection and transmission
Payment & Security
Your payment information is processed securely. We do not store credit card details nor have access to your credit card information.