Roll over image to zoom in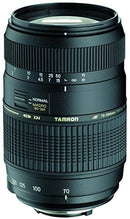 Description
Product Details
Designed for optimum handling ease and portability, the Tamron 70-300mm f/4-5.6 Di LD Macro 1:2 AF Lens is ideal for handheld shooting with full-frame and APS-C format SLRs. Its unsurpassed close-focusing ability makes it perfect for nature and portrait photography. Picture takers eager to bring distant sports or wildlife subjects closer, as well as bringing tiny, close range subjects into clear focus will appreciate the standout macro function, available at focal lengths between 180 and 300mm, with a maximum magnification ratio of 1:2 (one half life-size). This version also features a built-in autofocus motor for use with all Nikon DSLRs.


Tamron now offers a lightweight, compact, high-image-quality telephoto zoom lenswith macro capability of 1:2 that can be used with digital cameras. This new lens is a Di type lens using an optical system with improved multi-coating designed to function with digital SLR cameras as well as film cameras. 

With this 70-300mm telephoto zoom lens, flipping a macro switch in the focal length range of 180mm to 300mm obtains a maximum magnification ratio of 1:2 at a minimum focus distance as short as 37.4", enabling close-up shots of flowers, insects, and other objects that normally require the use of a specially designed macro lens. Moreover, this is a zoom lens that casually offers the distant capture and foreshortening effect pleasures of the 300mm ultra-telephoto world. 

Built in Motor for Nikon 
This version has a built-in Motor which will allow it to work with all Nikon Digital Cameras. With some Film cameras this will not work in Auto Focus mode

The Tamron 70-300mm is commonly used for Landscape/scenery, Macro photography, Sports/action, Wildlife photos and more.The Tamron 70-300mm is most used by customers who consider themselves to be a Photo enthusiast among others.The Tamron 70-300mm is popular because customers like the following qualities of the Tamron 70-300mm: Consistent output, Durable, Easily interchangeable, Fast / accurate auto-focus, Lightweight, Nice bokeh, Rugged and Strong construction
Payment & Security
Your payment information is processed securely. We do not store credit card details nor have access to your credit card information.